1.什么是ChipCorder

      ChipCorder提供了单芯片通过内置FLASH 或者外接 SPI FLASH 的方式 存储压缩过后的音频,实现高质量的音频播放 部分芯片还可支持录音功能。目前新唐主推的型号有ISD2130,ISD2360,ISD3800,ISD3900,ISD15D00,其中ISD1500是车规的,其余的是工规。下面分别就这几种型号作一个介绍。

2.主要型号规格介绍

ISD2130: 
ISD2130是内置 1M bit Flash 实现单通道播放的单芯片解决方案
•输出
PWM: Class D speaker driver to direct drive an 8Ω speak or buzzer.
Delivers 400 mW@3V supply.
•Flash 大小
1M bit flash, support playback in 32 seconds @8kHz/4bit ADPCM.
Endurance > 100K cycles. Retention > 10 years
•工作电压
2.7-3.6V
•采样率
4, 5.3, 6.4,8,12.8,and 32kHz , Voice prompts need to be 32k, mono;
•控制接口
Serial SPI interface for microprocessor control and programing Stand alone control where customized Voice Macro scripts are assigned to GPIO trigger pins(6pins).
•温度范围
Industrial:40 C to 85

ISD2360:
ISD2360是内置 2M bit 实 现 三 通 道播放的单芯片解决方案
•输出
PWM: Class D speaker driver to direct drive an 8Ω speak or buzzer.Delivers 400 mW@3V supply Delivers 1W at 5V supply
•Flash容量
2M bit flash, support playback in 64 seconds @8kHz/4bit ADPCM.
Endurance > 100K cycles. Retention > 10 years
•工作电压
2.4-5.5V
•采样率
4, 5.3, 6.4,8,12.8,and 32kHz, Voice prompts need to be 32k, mono。
•控制接口
Serial SPI interface for microprocessor control and programing.
Stand alone control where customized Voice Macro scripts are assigned to GPIO trigger pins(6pins).
•温度范围
Industrial:40 C to 85
ISD3800:ISD3800是可外接 128M bit SPI Flash 实现语音播放芯片•输出
PWM: Class D speaker driver to direct drive an 8Ω speak or buzzer.
Deliver 1W @Vccspk =5V
Aux out: an analog single ended voltage output
Class AB BTL: an analog differential voltage output.
•外部Flash•工作电压:
2.7-5.5V
•采样率
4, 5.3, 6.4,8,12.8,and 32kHz, Voice prompts need to be 32k, mono From I2S operation, 32, 44.1 and 48k Hz。
•控制接口
Serial SPI interface for microprocessor control and programing.Stand alone control where customized Voice Macro scripts are assigned to GPIO trigger pins(8pins
•温度范围
Industrial:40 C to 85。
3.应用框图: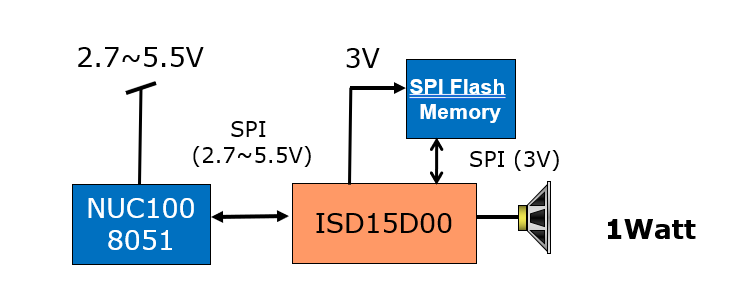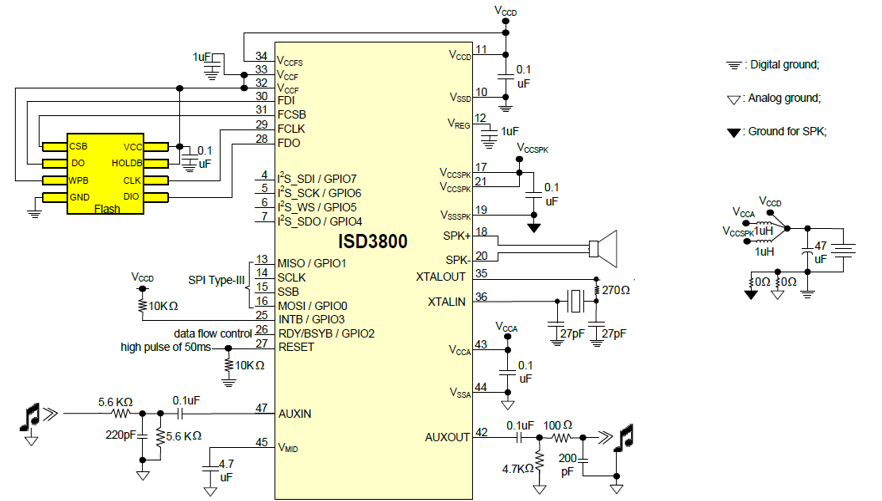 4.系统框图